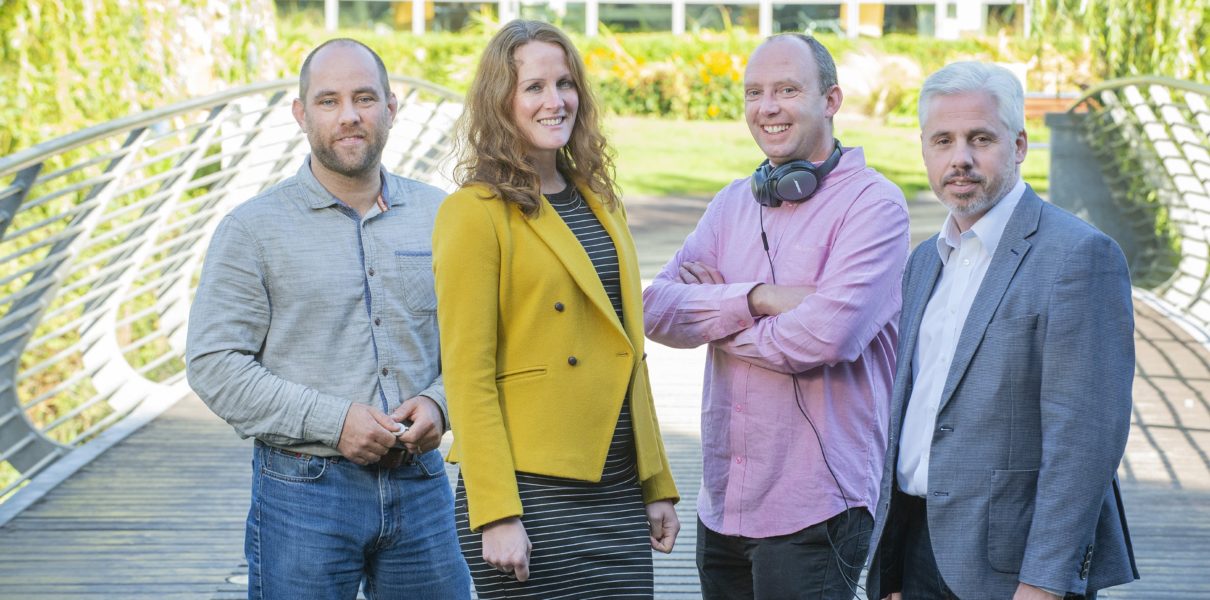 'Good Vibrations' will be among a selection of Beach Boys classics which will become available in stereo for the first time. A great calling card for Dr Derry Fitzgerald and his team at Cork School of Music, CIT and Rubicon, it's just one of the innovative products bringing AudioSourceRE to global attention. It has also developed technology that can, for example, isolate a vocal or a guitar line from a recording.
This technology is set to become a mobile app, which could revolutionise karaoke and other wide use music formats. The RE stands for "reverse engineering", which describes the way the software grabs single elements from previously engineered audio.
AudioSourceRE is also shortlisted for next Wednesday's Bridge Network Invention of the Year Awards, which take place in UCC next Wednesday. This is the sixth year UCC has hosted the inventor awards, and their second year as a Bridge Network event.
Bridge Network is a technology transfer consortium comprising tech transfer offices from UCC, CIT, Teagasc, and IT Tralee. The Invention of the Year is sponsored by Purdy Lucey Intellectual Property.
Dr Fitzgerald is in a shortlist with innovations and inventions in agtech, anti-counterfeiting technology, audio engineering, biotherapeutics, nutraceuticals, sensor camera technology, and 3D printing technology.
"I am a huge fan of the Beach Boys," said Dr Fitzgerald. "Getting my name on the sleeve of their album is really incredible. This remix has been done using our software to take the original mono recording into stereo.
"Until now, there has been equivalent to Photoshop in audio. With our technology, you can grab the singer out of a recording. You can take it from a CD, use it in a sample. You can grab just the drums and make them into a loop.
"People have been sampling from vinyl ever since the 1980s; they were doing some filtering, tidying it up a bit, but no more. This allows you to pull out just one element. There are many potential uses. An RTÉ crew could use it to remove the sound of a car driving by during a news report.
"For karaoke backing tracks, you might want to be a Beatle. You could pull out Paul, then sing along with George, John, and Ringo."
Dr Fitzgerald and his team have developed this software over 18 years, working with musicians at Cork School of Music.
AudioSourceRE will pitch the technology to industry leaders at the Audio Engineering Society Conference 2018 in New York in October.
"I have been working on this for 18 years, so I have a lot of expertise in the area," he said. "The software behind this has never been published. It would be very hard for someone else to reverse engineer what we have done.
"The record companies are very slow to let anyone get near their assets. Capitol Records agreed to give us access to the Beach Boys because they knew we could do something which would be useful for them. In terms of name recognition, the Beach Boys certainly gives us great credibility."
Of course, the network has a stunning list of success stories. These include Atlantia Food Clinical Trials, the UCC and Teagasc collaboration on human diet. Luxcel Biosciences was acquired by Agilent Technologies. Oculus acquired InfiniLED in a deal which will see Irish-developed LED technology applied to virtual-reality devices. Moreover, Bridgenetwork.ie lists some incredible technologies which are currently available.
Significant global attention will be paid to all of next week's Invention of the Year contenders.
On the Invention of the Year shortlist is LiOSKIN, a 3D printed battery created by Colm O'Dwyer, professor in chemical energy in UCC and academic member at Tyndall National Institute. The battery can be made into any shape, it can be 3D printed. The battery could revolutionise wearable technology, medical devices, IoT, wireless technology, and other areas that use up a lot of small-sized batteries.
"The importance of this battery is that you can 3D print it, so you never have to get another replacement battery for things like medical devices or a range of other technologies," said Prof O'Dwyer. "It can be attached to the outside of anything."
Prof Anita Maguire, UCC's vice-president for research and innovation, says the Bridge Network, rather than fostering competitive rivalries, has created powerful relationships between the partners in UCC, CIT, IT Tralee, and Teagasc.
She said the knowledge transfer offices in each institution deserve huge credit for the collective support they offer researchers in the consortium. The commercialisation of this research is a good indicator of its focus on outputs and collaboration.
UCC continues to be the best-funded research university in Ireland, having won competitive R&D investments of €99.9m in 2016/17, up 27% (€21.5m) over the last five years; of that €10m came from industry partners.
"The contenders for this year's Invention of the Year come from a wide breadth of fields," said Prof Maguire. "All of these innovations represent great commercial opportunities. There is a lot of great work behind the scenes in the technology transfer offices in bringing these great creative inventions forward for patent.
"The relationships that are developed in the network are very strong and have great long-term benefits," said Prof Maguire. "Next Wednesday's event serves a number of purposes. It brings attention to the research. It also brings together a lot of different stakeholders, people from a range of business environments.
"There are tremendous collaborations in the network, with all of the partners working together. On Wednesday, people will get to see the business opportunities in the inventions. The discussions after the event are often the most important part of the experience."
Invention of the Year conders
Smart Camera: What if we could see the unseen? Well, Prof Nabeel Riza's invention makes that hypothesis a reality. His CAOS (coded assisted optical sensor) camera will capture previously invisible scenes, which has immense implications for all sorts of applications from road safety and autonomous cars to deep surveillance. Based in UCC, Prof Riza's CAOS camera transforms incident light into signals that undergo light detection and extreme dynamic range decoding via electronic wireless technology. This 'smart camera' also features full optical spectrum viewing from the UV to near InfraRed with special security features, and has won Riza a finalist slot at the 2018 AutoSens Award in Game Changer Award Category this month.
Battery Technology from Tyndall: Another really cool invention is that of the Magnetics team at Tyndall UCC. This world- leading integrated magnetics technology can improve power management efficacy of mobile devices such as mobile phones, tablets, and laptops and thus extend battery lifetime upon charging. This solves one of the biggest limitations currently experienced by users of mobile devices, and a major technical challenge for the industry. There is huge interest in this technology with a number of licences on the technology with major multinationals.
By Joe Dermody, Irish Examiner
http://www.bridgenetwork.ie/wp-content/uploads/2018/10/Invention-of-the-Year-Irish-Examiner.jpg
2118
3255
rachel.oleary@ucc.ie
http://www.bridgenetwork.ie/wp-content/uploads/2018/04/logo-2.jpg
rachel.oleary@ucc.ie
2018-09-14 11:11:45
2018-10-12 11:15:03
Inventors feeling good vibrations as projects gain commercial pace