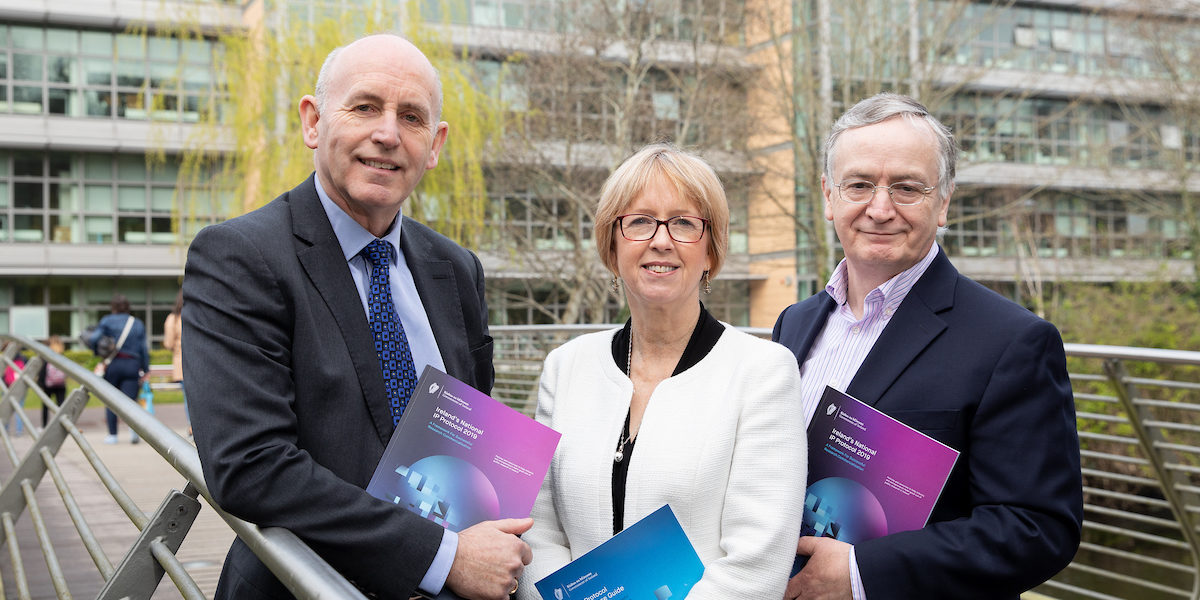 At the National Intellectual Property (IP) Protocol briefing in University College Cork, photographed were: Dr. Rich Ferrie, Director, Office of Technology Transfer, UCC, Dr. Alison Campbell OBE, Director, Knowledge Transfer Ireland and Dr. Charles Garvey, CEO, Metabolomic Diagnostics, UCC Spinout company. Photo By Tomas Tyner, UCC.
Knowledge Transfer Ireland (KTI) kicked off its national roadshow to present the IP (intellectual property) Protocol 2019 to businesses and researchers around the country in UCC this week. It was also presented in Limerick, Galway and Dublin.
It provides a practical, best practice framework for businesses, from start-ups and SMEs to large multi-nationals and entrepreneurs to access and utilise Irish research to drive economic growth.
The protocol, which is in its third edition, is produced and managed by KTI on behalf of the Department of Business, Enterprise & Innovation.
The protocol sets a benchmark for good practice in the commercialisation of valuable IP, on terms that are fair to researchers and business alike, and in ways that are predictable and consistent from one negotiation to the next.
The IP Protocol has been a reference point for business and research communities since it was first produced in 2012. The previous protocol was published in 2016. The new protocol includes a dedicated section on best practice in the formation of spin-out companies. It also includes a summary of the issues relating to state aid in the commercialisation of research.
Charles Garvey, CEO of Metabolomic Diagnostics, a Cork-based spin-out company shared his experience of growing a spin-out company at the event.
Minister Halligan, Minister of State at the Department of Business Enterprise and Innovation and the Department of Education and Skills said: "The commercialisation of public research to drive innovation and Ireland's economic competitiveness is a key pillar of the Government's innovation strategy, Innovation 2020. While investment in research performing organisations the length and breadth of the country is critical, it must go hand in hand with an effective strategy to put that research into the hands of businesses for the benefit of the Irish economy and society. The National IP Protocol is a key element of that strategy."
"We welcome the launch of the updated National IP Protocol with the additional guidance on spin-out companies. Forming spin-outs is an important aspect of our knowledge transfer activities at University College Cork. Having this guidance in the public domain will go a long way to managing the expectations of academic entrepreneurs, spin out managers and investors as they seek to grow these innovative new companies." Dr Rich Ferrie, Director, Technology Transfer, UCC.
Alison Campbell, Director of KTI said: "The new section on spin-out company formation developed in consultation with people operating at the coal-face is particularly welcome and was drafted to address a gap in the framework. The range of practical tools produced by KTI that are referenced throughout the protocol and its associated resource guide have been expanded.
"The aim of these tools is to provide relevant resources that demystify knowledge transfer and allow commercialisation and collaboration to flourish, while protecting the interests of all parties."
The National IP Protocol 2019 comprises two documents:
– the policy document sets out the framework underpinning research collaboration and access to intellectual property from state-funded research
– the resource guide which provides an overview of the national IP management guidelines and links to a wealth of resources and template documents that support these guidelines. It also provides an overview of the knowledge transfer structures in Ireland.
For more, see www.knowledgetransferireland.com/managingIP
http://www.bridgenetwork.ie/wp-content/uploads/2019/04/19-49_7Q9A4623.jpg
905
1200
rachel.oleary@ucc.ie
http://www.bridgenetwork.ie/wp-content/uploads/2018/04/logo-2.jpg
rachel.oleary@ucc.ie
2019-04-15 15:39:03
2019-04-15 15:55:32
National IP Protocol aims to add 'competitive edge'