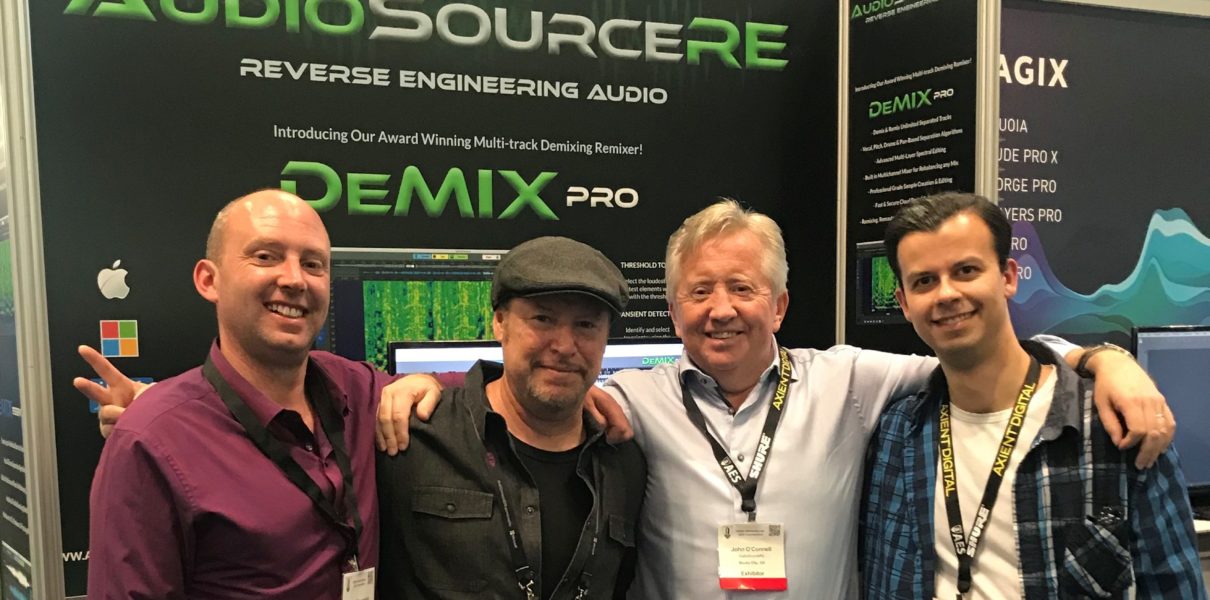 New York (October 16, 2018) – AudioSourceRE, takes the pro audio market by storm, with the release of DeMIX Pro – the newest innovation in the world of audio source separation.
DeMIX Pro combines world-class sound isolation algorithms with an advanced spectral audio editor and built in multi-channel mixer to provide anyone in the field of music and post-production unrivaled creative freedom. Isolate vocal, drums and other instrument stems from any mixed audio for remixing, up-mixing, re-mastering, and post-production applications. DeMIX Pro is now available for purchase at http://www.audiosourcere.com
De-MIX Pro demonstrates superior flexibility over other audio separators by offering unlimited non-destructive track separations, an intuitive workflow, convenient merge tracks functions, a groundbreaking multi-track spectral editor and unmatched stability.
AudioSourceRE is also releasing DeMIX Essentials – an entry-level must have for DJ's producers, remix artists, musicians and educators who want to create a-cappellas, backing tracks, isolated drum tracks and high-quality samples or quick remixes from existing audio mixes. DeMIX Essentials quickly separates vocals, drums, and other instruments to create up to four separate audio stems.
CEO John O'Connell stated, "We are delighted to launch our two groundbreaking products at AES. Now anyone interested in creating the best audio separations and isolations for music production and post-production applications will be able to do so."
AudioSourceRE is also pleased to announce the recruitment of veteran audio engineer and source separation specialist, Rick Silva – visionary behind the Audionamix's ADX TRAX product line. Rick brings his vast experience and unique industry insight to AudioSourceRE as their VP of Product & Business Development and will help introduce DeMIX Pro and DeMIX Essentials at AES New York 2018.
"After extensive testing of DeMIX Pro, I wanted to contribute to AudioSourceRE's journey to the top, in the field of audio source separation. Our product line will offer the best sounding source separation solution in the game"
What the audio industry is saying about DeMIX pro and DeMIX Essentials
"DeMIX Pro is the best extraction software I have ever used." Mark Linett. 3-time Grammy winner. (The Beach Boys, Red Hot Chili Peppers)
"DeMIX Pro is the first software that can deliver a usable vocal extraction with just a few clicks – even from a mono source" Martyn Webster. Audio Engineer & Producer. (The Cure, ABC, Underworld)
"DeMIX Essentials is easy to use yet very powerful! Highly recommended!" Chris Kissel Webmaster, monotoSTEREO.info
DeMIX Pro and DeMIX Essentials technical specifications:
* Mac OS 10.9 and up
* Windows 7 and up
* Minimum RAM requirements – 4 GB
* Minimum CPU requirements – Core Duo 2.3GHz
* High speed internet connection required
AudioSourceRE product pricing:
* DeMIX Essentials: Buy for $179
* DeMIX Pro: Buy for $749
(*special AES intro offer available for a limited time)
About AudioSourceRE
AudioSourceRE is the culmination of over 18 years of research into sound separation by Dr. Derry Fitzgerald (CTO). Our company vision is to become the leading developer of high-quality music de-mixing software for music and post-production studios, DJ's, producers, artists, and musicians. For more information visit, www.audiosourcre.com or follow them on Facebook, Instagram, Twitter, and YouTube.
Media Contact US: Rick Silva
Direct: 818 749-6620
marketing@audiosourcere.com
http://www.bridgenetwork.ie/wp-content/uploads/2018/10/AudioSourceRE-Launch-e1540893099310.jpg
3114
2651
rachel.oleary@ucc.ie
http://www.bridgenetwork.ie/wp-content/uploads/2018/04/logo-2.jpg
rachel.oleary@ucc.ie
2018-10-30 09:46:33
2018-10-30 09:51:51
CIT Spinout AudioSourceRE releases their premier audio separation software at AES New York 2018